The way we deliver Employability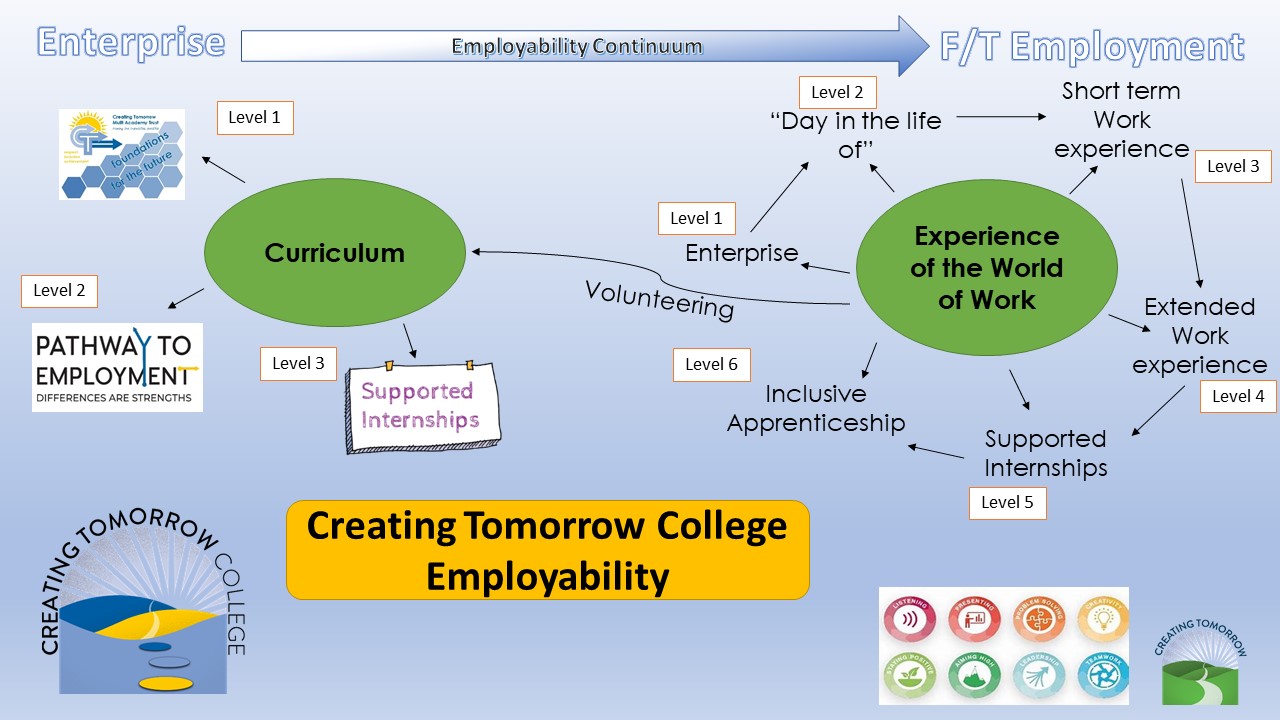 Our curriculum model for employability consists of two very distinct areas:
Curriculum (employability knowledge)

Experienced of the World of Work (employability skills)
Both elements work hand in hand to provide an effective programme that enables the student to gain foundational knowledge then apply it in real life situations.
We believe that each element in isolation does not give the student the best opportunity to succeed in the adult world. However, a personalised combination of both elements, pitched at an appropriate level, will support the young adult to understand the demands of a workplace, develop the knowledge and skills to gain and sustain meaningful employment throughout their adult life.
Curriculum
To build, embed, and expand skills and opportunities.
(Build) Stage 1: Foundations for the Future
To build core competency skills
We need to stretch attainment and broaden skills in readiness for employment.
Enable young people to be confident and work ready.
Establish a meaningful and relevant understanding of the working community.
Recognising protective behaviour themes and strategies, within the workplace.
(Embed & Apply) Stage 2: Pathway to Employment
To evolve practical experiences
Recognise and establish accomplished skills.
Embedding mind-set qualities for employment.
Build on engagement of future aspirations.
Engage in logistical and regional expertise.
Embedding of employability knowledge.
To apply Functional Skills knowledge into the workplace.
Self-awareness strategies relating to personal wellbeing of self and others within the workplace.
To demonstrate transferrable skills.
(Expand and apply) Stage 3: Supported Internship
To expand and apply learnt skills
To be able to apply skills and knowledge with support and know-how.
To be able to confidentially use strategies to self-advocate.
To apply transferrable skills confidentially.
Knowledge and understanding of cultural capital influence.
Experience of the World of Work
We recognise that our students will benefit from a range of different practical application opportunities based on their employability development stage, age and identified outcomes. This is why we offer six different levels of experience and students will access the one that is most appropriate for them
Level 1 — Enterprise
Every student in the college will experience enterprise which introduce them to the basic concept of manufacturing or service providing them with the opportunity to understand the principles of cost, profit and reinvestment.
Level 2 — 'a Day in the Life of...'
This stage provides the opportunity for students that are not ready to access work experience the ability to observe and 'feel' what is like to work in a chosen sector. The benefit of these experiences enable the student to prepare themselves for level 3.
Level 3 — Short Term Work Experience
This level enables the student to access a 'traditional' block of work experience, putting learning into practice. At Creating Tomorrow College we recognise the value of this experience however also understand that in isolation this offers very little value to the student without the wider approach we adopt.
Level 4 — Extended Work Experience.
Students will benefit from accessing extended work experience dependent on their personalised, identified outcome for employment. This may take the form of practical work experience for up to 3 days a week, therefore providing extended opportunities to develop skills for the workplace to gain and sustain meaningful employment in adult life.
Level 5 — Supported Internships.
Creating Tomorrow College supported internships offer the intern the opportunity to continue with their education in year 13 (or year 14 with the agreement of the local authority) while attending a yearlong work placement. During the internship the intern will no longer attend college, they will work in an identified business supported by a Job Coach employed by the college. The education programme will be delivered on site to the intern by the job coach. These are appropriate for those that will be ready to gain meaningful employment following the programme. They are not a route into further education.
Level 6 — Inclusive Apprenticeships.
An inclusive apprenticeship is very similar to a standard apprenticeship however since the Maynard Review the Institute for Apprenticeships (IfA) guidance now requires for end point assessments to be subject to reasonable adjustments.

The Department for Education announced changes to Maths and English requirements for apprentices who have special educational needs, learning difficulties or disabilities. Specific criteria have to be met and evidenced, and these are detailed in the Specification of Apprenticeship Standards for England. For these apprentices, exemptions are in place for the regular English and Maths minimum requirements. This exemption allows the apprentice to use an Entry Level 3 qualification in English or Maths as an acceptable alternative.